Feb 05
adminUncategorized No Comments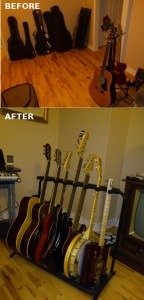 It took me a couple of years to figure out what I'm missing in my basement.
The right guitar stand. Imagine you are practicing and want to switch the instrument? Right. You have to go to another corner to find the right bag, to open it, to get another guitar, to put the previous one back in place safely…
Well. And it took me another year to find the right solution.
Finally I did it! "Rockstand" stand for 7 guitars!
And while I have already around 15 guitars (Strange, never can figure out how many exactly do I have) it's more than enough to have 7 instruments right by your hand.Stupid, but I'm feeling happy.