Projects

Accidental project.
This project was started accidentally and then completed miraculously.
I had some "leftovers" from my Tele project: tuner, pickguard etc. as I was upgrading some parts from the original package…

This is my first project. First I had an idea to by a new mid level guitar. MIM for example. But after some research I decided that it would be a fun to build it myself. And it was like a travel back in the childhood. I've built my first guitar at the age of 12-14. But, (1)it was necessity and (2) it was not playing well.

This project was a challenge regarding the painting.
The first attempt was a failure and the second one was even worser.
After hours spent in polishing in order to get rid of the painting mistakes I have ended up with very unexpected result.
My wife entered my workshop and said: "Wow! It looks so cool!"
I was confused: "What is cool? I've just sanded it and now I'm polishing to prepare for the new coat."
She said: "I don't know your plans but even if you leave it like that it would look cool."
That's how I've ended up with a "vintage" style PB bass guitar.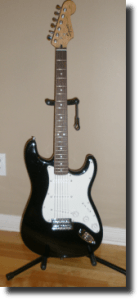 This project had started accidentally. My son finally picked up his Squier Strat for his hip-hop projects. I have nothing against the hip-hop. I have my favorites in it as in any genre. but not that many as in blues-rock though 🙂
Anyway, I liked this Strat abandoned once by my son. So I needed some replacement. I've found the very similar model on Kijiji. After the brief negotiation i've got a deal of $80. Not too bad for the almost new Indonesian Squier Strat Affinity. But still the guitar needs serious upgrade.