Blue JM Project
Accidental project.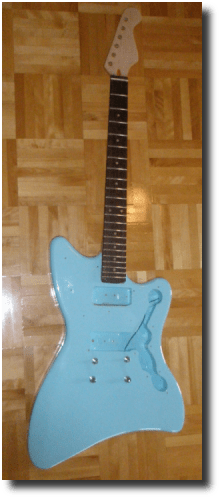 This project was started accidentally and then completed miraculously.
I had some "leftovers" from my project: tuner, pickguard etc. as I was upgrading some parts from the original package.
After another extensive search in the Internet I've found some local guy who was offering on the -CraigsList- the guitar body just for 40 bucks. What can I say? I could not resist.:)
This guy was so nice to me that he had offered the full electronics set with pickguard for another $40. That was not exactly what I have planned to do.
But the price was so attractive… 🙂
And even more: there were 2 P90 humbuckers in the offer.
And I was always dreaming to try humbuckers.
As a result I had to add only 6 pegs and the bridge.
And again: the
eBay

is your best friend here.
The body was repeating the Jazz Master shape at some extent. So it was the placeholder for the standard JM bridge.
So another $12 wouldn't break my bank.
As for the tuning pegs the was an amazingly cheap offer on the
eBay
: 6 pegs set for $6 from Hong Kong.
But I have to say the whole truth: there might be some missing parts in the package. So after I had left just a neutral feedback on the
eBay
: 6 pegs set for $6 from Hong Kong.
they contacted me immediately and even sent me another package for free.
I swear I didn't plan to take an advantage but that's how it had happened: They re-send the package just for convincing me to remove the neutral feedback.
About Miracle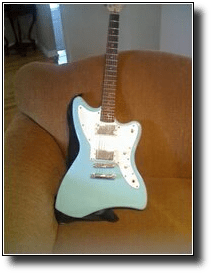 Now about the miracle.
The hardest part of this project was to gather all this stuff together.
No painting. Because the body already was in perfect condition.
But what was a huge surprise there were no intonation/action setup whatsoever!
All parts fit to each other. It started to feel and play great just like that!
In Action.
Here is a clip of my friend singer/songwriter Dan Parker who used this guitar in his recording.
Cool song by the way: