Tele: Project Saga TC-10
Shielded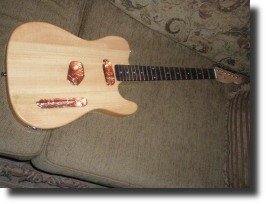 I've got a copper self-adhesive foil in the local musical store.
You can also try to find one on eBay.
The main goal of shielding is to decrease the unpleasant feedback sound produced by radio interference.
So I have put the screen in all caverns in the body and I also have covered the back side of the pickguard with this copper foil.

Bridge Pickup Space
Controls Shielding
/wp-content/uploads/2012/07/tele4.jpg" title="tele4″ width="216″ height="498″ align="left" alt="Telecaster clone guitar" />
Here's what is the result of my efforts.
Standared "Tele" with the Vintage bridge.
Budget:
– Bought on – $99;
– Neck pickup replacement (eBay again) – $15.
– Compensated saddles – $20 at StewardMcDonald.
– Painture: I believe around $10.
That's pretty much it.