Hi.
About guitars and me .
My name is Serge and I live in Canada.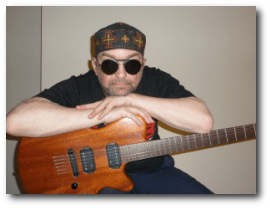 Once upon a time I was playing in a school band. Then I've got a job… Then I've got a wife, then children… In other words, the ordinary life didn't left a single minute for my hobby. Rings the bell?
I cannot even remember where my first guitar has gone with the time being.
I only remember that it was a small size 6 string acoustic instrument presented to me by my lovely aunt.
I was 12 years old at that time.
Now, when children have grown up and left the nestle I started to feel some sort of emptiness.
As I'm missing something. And I bought me a very cheap acoustic guitar Aria. That was fun to remember things!
Then I've found another guy of my age who, at the same time as me started to feel that he "just cannot live without playing guitar". So we started to jam time by time.
And at this moment I started to think about new guitar. As I'm not a pro I could not let myself to get really good expensive guitar. Not financially but just psychologically. Therefore I decided to build my very own guitar. That's how my
first project "Tele" has been started.
So stay tuned 🙂