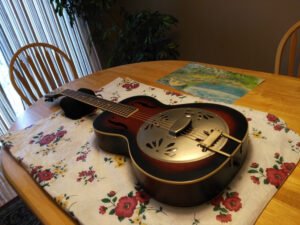 I decided to use the Schatten NR-2 Player National Style Biscuit Bridge Pickup. It comes with the jack already attached. So it will less work to do.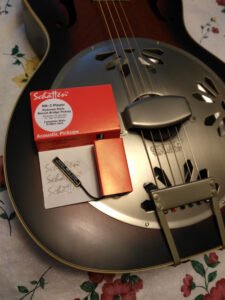 The pickup has to be mounted either on the biscuit or on the bridge. I have chosen the bridge. I was wrong, but I found it too late. It is way too sensitive. Even the slightest movements are amplified.
The first step is to prepare the hole for the endpin jack. It supposes to be in the native endpin place. 
So, first of first is to carefully remove the original endpin.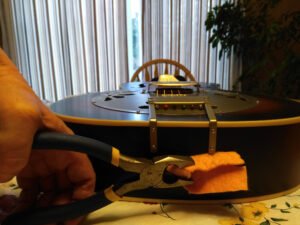 Next, I put a piece of scotch oh the place of drilling (tip) to protect the surface. For drilling, I use a Conical Rotary File.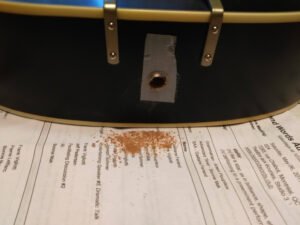 Then I remove the cone along with the covering plate: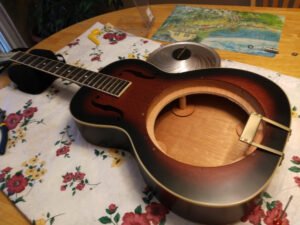 Then carefully install the endpin jack. I attach the pickup to the bridge initially. Later I moved it to the biscuit.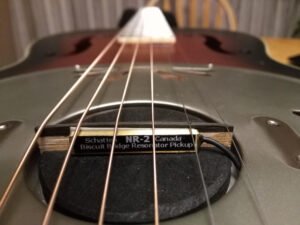 I attach it with provided self-adhesive stripe.
Voila!   
Here's a small video clip. It demonstrates the results:
Gears:
Pickup: Schatten NR-2 Player National Style Biscuit Bridge Pickup.
Preamp: L.R. Baggs Para Acoustic D.I.
Amp: Fishman Loudbox Mini.
Recording Studio: Boss BR-600