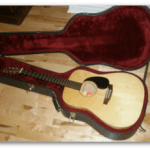 Norman B15 is a regular inexpensive acoustic guitar. Not more nor less.
But the one I've found on Kijiji was claimed to be modified specially for the slide playing.
And my temptation became even stronger when I've found that the offer was 3 times less then the money invested into this instrument.
The final kick was the sound. It was so warm and mellow and just great!
Of course I can not compare it with my Norman ST-40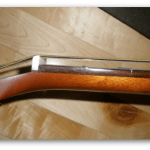 As you can see on the next image the nut and the saddle (not visible) were significantly raised.
So it is a very interesting combination:
– from the one hand it's just like square neck guitar so you can play lap style;
– as it is a round neck you still can play in the standard position.
"Improvement" I regret I've made.
Well. I had a great plan for this guitar.
Here's what I did: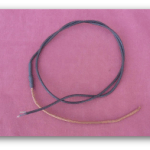 1. I've bought a Fishman Sonicore Piezo pickup on the EBay.
2. I've installed it in the guitar along with the jack.(Let me know if you want to know the details.)
3. I've re-tuned the strings and it sounded great. So I tried it a bit and then placed into the case and left it for a week or two.
Well. Here is what had happened to the guitar when I have opened the case after two weeks!
The bridge got cracked!!!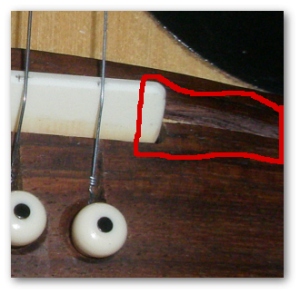 I started to google with the keywords like "Bridge crack".
Guess what?
The first reason leading to the issue in the acoustic guitars is "installing the under-saddle pickup"!
So my mistake was the wrong presumption that the thickness of the under-saddle pickup is similar to the small plank placed by the previous owner under the saddle in order to raise it.