Project "Bass"
Start of the Project
/wp-content/uploads/2012/07/bass_open_pack.jpg" alt="open Saga bass guitar kit" title="bass_open_pack" width="321″ height="200″ align="left"" />
Now let's take a look what's inside.
– pre-sealed body (no need to apply a primer coat);
– nesck with the saddle head (you can shape it as you wish);
– pre-loaded pickguard (volume and tone controls already mounted;
– plastic bag with strings, bridge, tuners and other metal parts;
– pickups.
That's it.
First step: peg head.
/wp-content/uploads/2012/07/fretsaw.jpg" alt="fretsaw" title="fretsaw" width="330″ height="255″ valign="top" align="right" />
The only tool I need for this is a fretsaw. You can find it in any hardware store for about $10 if you don't have it.

Peg Head Shape.
Be extremely patient and careful.
And the ugly paddle will become nice PB shaped peg head.
Actually you can make it whatever shape you like.
It can even be something very special and very personal.
I was too lazy to get fresh ideas so I've just googled for "PB peg head chart 1:1".
And here you go:


For the painting I was using the aerosol cans of acrylic paint.
Don't trust the words 'INDOOR/OUTDOOR' on the label!
Use it strictly OUTDOOR if you want to live!
Even working in the back yard wearing the mask I had to run away several times during the extensive painting.
Just to wait when the toxic cloud is done with the wind.
You can find it in any big hardware store.

At the beginning I decided to paint the body in "burgundy". kind of wine color.
And I kept the winter car tent as long as I could so I could have a nice painting cabin. The air temperature recommended is above 15 Celsius.
So I had to wait for a warm days risking to be fined for keeping the tent on my driveway for too late.
So I've suspended the body using the rope and a nail. A long enough ail is necessary to keep the rope from the contact with the painted body.
I've put the nail through the hole for the neck screw.
First disappointment: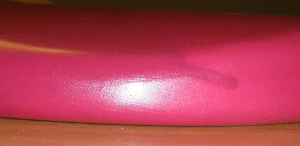 I've finally got the leak on the edge!
"No problem!" – I said to myself, "I'll fix it with the sand paper!"
And I've sanded it with 800 grain paper…. right through the paint up to the body!


Final coat!
I've made 3 coats with the interval about 2-3 hours between.
What I've got as a result you may see on the following images.
It's mate an a slightly bumpy (like goospumps) surface: