Hi.
And again about the "leftovers".
1. When I shop for cigar boxes I always pick up small ones if they are: wooden, nice looking and FREE!
This the "Mouton Cadet of the Baronne Philippe Rothschild House" small cigar box was one of them.
I used it for a while to collect some bills.
2. Then I've got this 2 feet piece of the poplar plank from the P-Bass Cigar Box Guitar project as a leftover. At our hardware store you can only find the 6′ plank of the right profile. And I used only 4′ of it for the neck.
3. The three tuning pegs are also (2+1) leftovers. I usually make 4 strings CBGs. But since there are  only 3 pegs left, let it be 3 string this time.  Moreoever, you just can not place more then 3 pegs on such a small plank.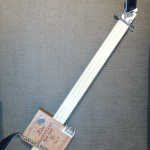 So. Small free cigar box, small 2′ poplar plank and 3 free pegs. Anything what can come out of this doesn't deserve to be qualified as a guitar. That's why I called it CBU: Cigar Box Ukulele.
And as any "leftover" project I tried to avoid any purchases as much as possible. The only exclusion (like frets) is the materials which I already have in my workshop.
So, here is the first draft: no frets, no electronics or anything else extra. At some extent I now regret I had proceed with those upgrades.
Amplification.
Recently I had a post on how I make the DIY CBG Pickup.
So that was a great occasion to try it before going to bigger projects.
On the following images you cab see the frontend and the backend of the construction.
Please note that I placed long enough screws through the neck plank. This approach gave me a nice opportunity to maintain the distance between the strings and the pickup.
Also you may notice that I've put 2 magnets per each pickup. I can put even more if I need to.
And the last thing to mention. The shielding inside the cigar box. I used the aluminium self-adhesive foil here.
Without the shielding I could hear some radio program when plugged this thing to my amp.:)
Yeah, I know the hole for the pickups in the middle looks ugly. It happened because originally I wanted to buid the pickups from the ferromagnetic magnet buttons from the fridge magnets. They are bigger but they didn't work as good as expected.
So here is the final look of this tiny instrument:

Oh. And one more possibly useful tip. The plastic cover of the peg head. Not my original idea though. The "Home-Depot" or any other hardware store which offers kitchen countertops has a stand with a huge amount of the plastic covers. Just don't steal all of them! You need just few. 🙂
And as usual, the video sample will come shortly.