Guitars
They are like good friends or even better – relatives.
Each one has a character and a story.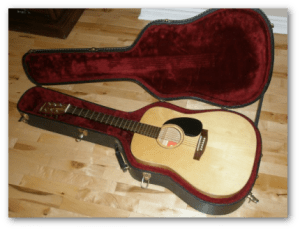 Originally the Norman B15 is a regular not expensive acoustic guitar. Not more nor less.
But the one I've found in Kijiji was claimed to be modified specially for the slide playing.
And my temptation became even stronger when I've found that the offer was 3 times less then the money invested into this instrument.
The final kick was the sound. It was mellow and just great!

Read More…
I had 2 guitars in my wish list:

The first one is an acoustic classic guitar.
I have owned one long time ago.
I was still missing it and that special feeling of the nylon softness under your finger tips…

The second dream was a guitar which I can take anywhere I go.
Yes, you got it right, a traveler class guitar.

These both dreams comes true today. Surprisingly, as a beautiful occasion.

Please meet: Escape MK-II Nylon.

"So I went ahead and made me a guitar.
I got me a cigar box, I cut me a round hole in the middle of it, take me a little piece of plank, nailed it onto that cigar box, and I got me some screen wire and I made me a bridge back there and raised it up high enough that it would sound inside that little box, and got me a tune out of it. I kept my tune and I played from then on."
© Lightnin Hopkins

Read More


Once I was just stoned by the music of Harry Manx.
Harry Manx is a unique player/songwriter who plays not only guitar.
He is best known for his amazing play on Mohan Veena.
But this story is about a guitar. So according to Mr. Manx he is playing mostly in open D tuning lap style.
So I tried to find inexpensive instrument to practice.
I'm not entirely happy with this piece. Maybe I'll try to upgrade it some day.
UPD: Finally this guitar was traded to Godin LG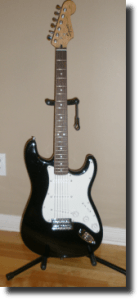 This project is mostly the upgrade of the existing guitar.
My son finally picked up his Squier Strat for his hip-hop projects.
I have nothing against the hip-hop. I have my favorites too as in any genre. but probably not that many as in blues-rock though 🙂
Anyway, I liked this Strat abandoned once by my son.
So I needed some replacement.
I've found the very similar model on Kijiji.ca.
After a brief negotiation I've got a deal of $80.
Not too bad for the almost new Indonesian Squier Strat Affinity.
But still this guitar needs serious upgrade.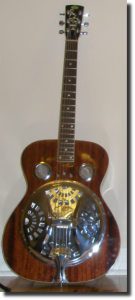 One of my favorites for the blues.
I've found this one on
All laminated but it's not that important for the resonator guitars
Very nice inlay on the headstock.
Beautiful sound.
But this is my personal perception.
There's always the room for the improvement.
You may always be able to find better resonator cone for example.
But as I was happy enough with its sound I decided to do something else.
The quality and the power of this type of Dobros depends on how tight the edge of the cone rests on the deck lip of the resonator hole.
When I took off the resonator cover plate and the resonator itself I have found one serious defect. There was a couple of caverns on the lip surface.
As I had no enough experience and the right instruments I decided to bring it to the luthier. And he did a great job.
I don't remember what exact filler he was using but the sound has been improved dramatically.

Usually I make "guitar presents" to myself at my birthday.
So it started to look as "Another year – another guitar".

This time it was different. I've got some extra money right before the Christmas.
And I said to myself "I want really good guitar".
What is a really good guitar in my understanding?
Of course it's either Martin & Co or Taylor.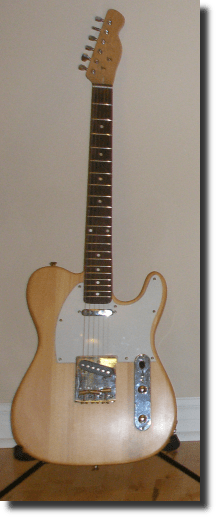 This is actually the result of the Project "Tele" Saga TC-10

Nice sound.
Nice look.
Downside: needs the intonation and action setup every season.
This is how the non-expensive wood acts.
Especially the neck.
So if you are not comfortable with the intonation setup this model is probably not for you.