The Godin LG Electric guitar was entering my guitar family by occasion.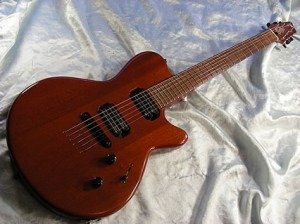 I have got the trade offer while trying to sell my SX Lap Steel Guitar
I refused the offer initially.
I thought:
"Chinese SX Lap Steel guitar has a price of just $100 while the Godin LG (1997) with the humbuckers instead of P90 and the autograph of Zakk Wylde should cost not less then $800. It can be a scam or just not fair"
But the guy insisted recognizing the difference. He just wanted the lap Steel that bad.
I also was scared of some mystical things, Kind of possession etc.
Well we had a deal and the Godin LG lives in my basement along with other sisters and brothers for over a year already.
Nothing bad had happened so far. 🙂
Few words about the Godin LG itself:
24 frets,
Bolt on neck,
H/H pickup setup,
5 way switching,
string-thru body,
one volume, one tone,
the humbuckers get split to give sort of single coil sound
Oh. And one more interesting detail. The peg head bears the original signature of Zak Wylde for some reason. Is it for blessing or for curse I have no idea. But the guitar itself looks, feels and sounds solidly good to me.