I had 2 guitars in my wish list:

The first one is an acoustic classic guitar.
I have owned one long time ago.
I was still missing it and that special feeling of the nylon softness under your finger tips…

The second dream was a guitar which I can take anywhere I go.
Yes, you got it right, a traveler class guitar.

These both dreams comes true today. Surprisingly, as a beautiful occasion.

Please meet: Escape MK-II Nylon.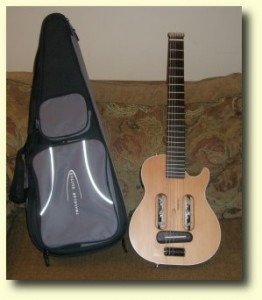 I've placed the ad on Kijiji.ca for the search of the absolutely different cheaper model and got that pearl.

Here's the official manufacturer overview:

The Escape MK-II Nylon is the most sophisticated full-scale acoustic/electric classical travel guitar on the market. Features include an ergonomic body co-designed by John Carruthers, a full 25 ½"-scale neck w/non-radiused fingerboard, and an L.R. Baggs Custom Element-Hybrid pickup system with onboard headphone preamp so you can plug headphones directly into the guitar and Play Anywhere. The MK-II comes with a deluxe gig bag and fits in airline overhead compartments.
I've put the Escape MK-II and my Godin LG side by side here just to give you an idea of its size: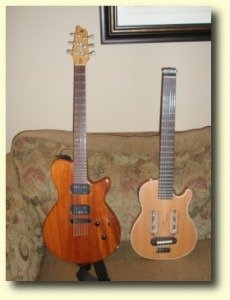 As you can see the decrease of the size has been achieved by:
Non-standard construction decision: the head stock with the tuning pegs is embedded into the body;
The body of the guitar is made as small as possible, especially the length


Sound:

Actually, without headphones or amp there practically no sound. Very small solid wood body and nylon strings do the work.
What is not bad thing: you can practice and watch TV at the same time without annoying your family members:)

Well, and when the guitar is plugged in, you may find something unpleasant or unusual. Not only strings sound but all the touches and moves of your hands over the instrument get amplified. Yep. This is the price for the good piezo pickup. So you have to get used to it.
Especially if you are mostly an electric guitar player.
Pickup & Pre-Amp

But when you'll get used to it you'll love it!