Amigo AMT10 Travel Guitar is a small and cheap ($90) travel guitar made in Romania.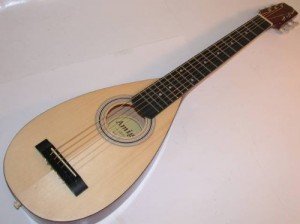 I always had a dream to have the guitar which I always can have with me and at the same time I wouldn't be stressed out about it safety.
So if it's stolen from the trunk or back seat I wouldn't scream in despair.
I don't remember the reason now why I made this decision.
The alternative was the  WASHBURN ROVER ACOUSTIC TRAVEL GUITAR.
But I believe the low price and nice look  made the trick.
Honestly I'm not really impressed with this instrument.
Here is why:
The original action is very high. I had to sand the back side of the saddle as much as I could. The limit was the bridge itself. So the strings could be muted by the bridge if I set the saddle too low. And even so the action is still high so I'm thinking to scrub and sand a bit the front (closer to the sound hole) part of the bridge.
Nut on the neck is not well adjusted. As a result you have to over press the strings on the lowest notes so the sound may be a bit sharp. Which makes your ears hurt. Therefore I had to adjust this part too.
 Shape. Many people who sees this Amigo AMT10 Travel Guitar for the first time get confused thinking it's a mandolin due to its shape. Well, the shape itself is not a problem. The problem is to handle it while playing.   Unless you have some sort of the belt.  But this is a  minor issue.
There is no truss rod which makes the guitar setting a challenge.
Apart from these flaws the Amigo Travel Guitar has a nicely done all pine body.
And the sound is OK for this small body.
It's a 24″ scale guitar comes with carry bag.
Result. I still have this guitar in the trunk of my car.
Oh! And I've found it on the eBay