Jun 20
adminUncategorized No Comments
Finally I've got some time to describe how this "telecaster" guitar project is going so far.
I didn't expect that everything will go smoothly.
Well and I was right!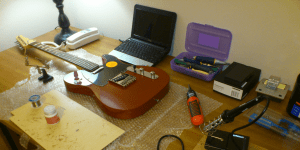 It is always a challenge when you are trying to put together some random parts from different projects. Which were just collecting the dust in your cabinets.
But from the other hand it's a great learning experience. You have to find the solutions here and there what helps to boost your creativity.
And after all, I have said to myself: "OK. Let it be another Telecaster project. No matter if it ends up as a lovely instrument or just a nice wall decoration".
You may track the progress of this project on the dedicated page:
"Blood Red" Telecaster Clone
The main challenges were the pickup cavities depth and the positioning the neck against the guitar body.
But please feel free to read the details on the page if you find it interesting.