Jul 28
adminUncategorized No Comments
Recently I started some sort of cleaning in my basement.
I have collected too many electronic devices which are obsolete. Telephones, CD players etc.
And TONS of power supplies!
Much more then the devices. Because when some device gets broken and I just put it into recycling bin. But I ALWAYS keep the power supply having the idea it might be re-used with any other device or somehow… That never had happened.
Until now.
Now I've find some parts of the power supplies can be re-used. The coils of wire inside the transformers can be very good for the magnetic pickups.
But that's another story.
As for now, I want to share my another invention. DIY Harp Mic.
I often see the harp players with those "green, blue etc. bullets".
They (bullets microphones of course) look really antique. Despite the fact it's just a re-build.
So I started thinking about making something similar but from the stuff which collects the dust in my basement.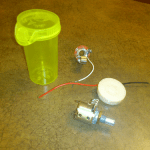 Long story short. More