This is my second Cigar Box.
I call it P-Bass Cigar Box Guitar.
The First One was made few years ago. And all this time I was hoping to find some time for another better version.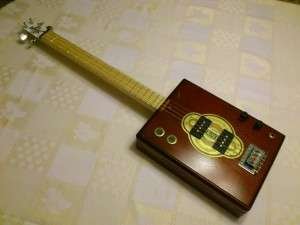 This time I wanted to get real fat and nasty sound from it. So I decided to try the bass pickups. I even reproduced the electrical circuit of the Precision Bass. Well, with "Made in China" parts of course. 🙂 And I have to admit: the sound is really fat. But not as "nasty" as it was expected.
No problem. I just need to play with distortion effects and it will work sooner or later.

For now here is the first sample. The volume is a bit low due to the lack of recording experience. But at least it gives you some impression:


It was an interesting and long journey of building my second Cigar Box guitar. Full of challenges and problem solving. A lot of learning.
And at the endt, I should say I'm almost satisfied with the result; like 90%.
I plan to publish the detailed report in "Projects". Hopefully sooner than later.:)
So stay tuned.