Jun 09
adminUncategorized No Comments
Few weeks ago there was some interesting discussion in the FB group "Cigar Box Guitar Builders".
Someone started it with the statement, kind of: "I don't like the idea of using any expensive guitar parts on cigar box guitars.
Because there were no expensive parts at the times when first CBGs had been created.
And the creators never had money for these parts. As well as for real instruments.
Actually this was the point and main reason why cigar box guitars have been appeared on the edge of 19th and 20th centuries.
I personally have mixed feelings about this subject.
On one side I like to browse the eBay for really cheap "Made in China" pickups (I remember I bought the standard single coil pickup for just $0.99, free shipping. And it worked well).
And it's an amazing feeling: it looks like a box but sounds like a real electric guitar.
And I believe that it can be a real fun: volume control, tone control, pickups switch etc.
I myself have built one and I like it: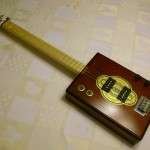 More