Jul 20
adminUncategorized No Comments
There are three major categories of the acoustic guitars produced nowadays:

Laminate wood guitars

These are the low end cheap guitars used mostly by beginners.
Laminate is wood in which sheets of wood are layered on top of each other. Usually a thin layer of more expensive wood is placed over several layers of cheaper wood.

Laminate does not vibrate as well as a single piece of wood which is why it does not produce a guitar with a beautiful sound.
The only advantage of this type is that they are not so sensitive to the climate changes.

Solid top and laminate back and sides

A huge amount of the guitars of different levels of quality are falling into this category.
From relatively cheap up to well known brands like Taylor.
It's a known fact that the top of the guitar is a most important part of the guitar in producing the quality sound.
So this type of guitars is a smart compromise between the high quality instruments and the cheap sisters.
The Taylor models of this class cost you around $1000.

All Solid Wood Guitars

These are the top level guitars. I don't want to discuss the types and sorts of wood here. Let it be another article. Just in few words there are two major woods used:
cedar and spruce.
The quality of the sound in guitars of this type is only getting better with years. But you have to take a special care about this instrument as it is really depends on the environment. Mostly the humidity level.
Well. But how can you tell if this particular guitar is an all solid wood instrument?

It's usually not easy to say. The modern technologies can make the laminate look and feel exactly like a solid wood. And this is not only my perception. Many sales persons in the guitar store can not tell!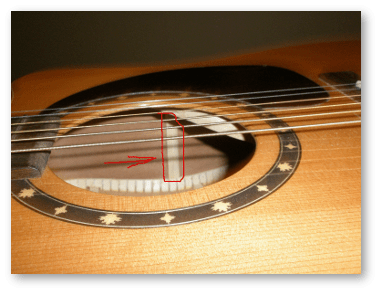 Only once I met the guy who showed me the good way to figure it out.
Now please take a look at the image. I marked the spot with red.
Do you see the perpendicular wooden plank supporting the side from inside?
This technique is only used to enforce the all SOLID WOOD sides to prevent them from straightening its curves with time.
Note that the laminate wood doesn't need such type of enforcement as it is manufactured as curved already.