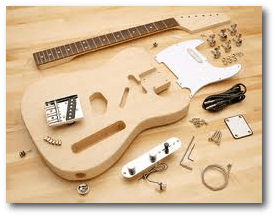 Are Saga Guitar Kits Good?

In just few words the answer is -Yes-.

It really depends on what you are expecting to get from it. As always in this sort of activity.


On my humble opinion it has two advantages:
It is fun to make your own guitar.
If you have enough patience you may get nicely playing and good looking instrument with the minimum of work involved.
But don't expect to have REALLY cool guitar ready to big gigs.

The electronics in these kits are pretty cheap. So if you want a bigger sound you'll probably will want to invest a bit more into pickups replacement…

Tip #1. Painting.
Be careful with it. If you don't have enough time or patience I would strongly suggest to use any transparent acrylic paint.
The guitar body in the Saga kits comes already sealed and prepared for the final painting.
And the wood structure looks very good.
I tried once to play with colors without good thought and preparation and I failed big at the start.
This is a good topic for another post. But for now I just want to say that the sanding after each coat is a very tricky operation.
And about the coats regardless if its color o transparent.
More coats means more hard sanding and polishing work.
I have covered my TC-10 with 3 coats and it was way far from looking like a mirror.
But I liked to keep the wood structure visible.
Tip #2. Shielding.
Nobody likes an ugly feedback sound which often occurs when you plug your guitar into amp.

You can not avoid this sound due to the nature of the way how the electronics work.
But you CAN to reduce it significantly!
There are few factors provoking the feedback sound:
Pickups quality.

As I have mentioned above you can invest a bit more to replace the original ones with something better.

Question: what to do with the leftovers? Well. If you so passionate about making guitars why don't you try to build a /projects/project-tele/">Priject Tele TC-10 for details.
CONCLUSION:
With the Saga Guitar Kit You can build a good instrument of an average quality.

It cannot compete with the industry leaders! The quality of parts and the lack of tools and experience won't let you.

But being patient you can make an instrument you'd be proud of.
Good luck!